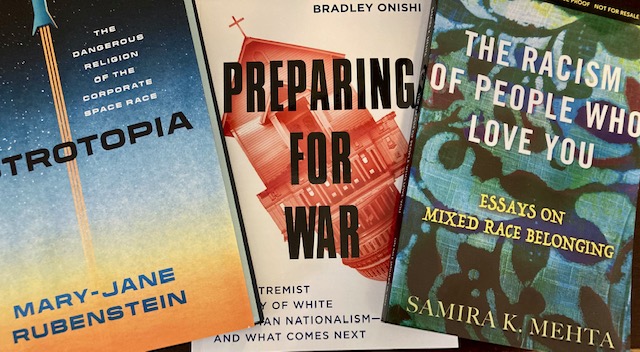 Each December, we put collectively an inventory of books we love which are authored by Revealer writers. For those who're searching for guide to twist up with this winter, or a present concept for a reader in your life, we advocate these wonderful books.
1) Every chapter in Samira Mehta's lovely assortment of essays tells a private story concerning the issues of race in america. She introduces readers to her mixed-race household, her experiences as a lady of shade with white mates, and her conversion to Judaism. The writing is vivid, insightful, and at instances fairly humorous. Mehta is the writer of the Revealer article about Christian-Jewish interfaith households, "The December Dilemma: Less Oy, More Joy." Don't miss her shifting new guide, out in January, The Racism of People Who Love You: Essays on Mixed Race Belonging.
2) If private tales concerning the present state of faith and politics curiosity you, now we have the guide you want. Earlier than he grew to become a faith scholar, Bradley Onishi was an evangelical youth pastor. He shares a few of his background in his widespread Revealer article "God is Ultimate Masculinity: Evangelical Visions of Manhood in the Wake of the Atlanta Massacre." In his wonderful new guide, Onishi blends his experience in faith together with his private experiences in evangelical communities to make sense of the January 6 assault and rising Christian nationalism. For those who care about sustaining a separation between church and state, and if you would like insights into those that don't, make certain to take a look at Onishi's critically vital and splendidly written new guide, out in January, Preparing for War: The Extremist History of White Christian Nationalism—And What Comes Next.
3) Are you curious about the interaction of science and faith? Andrew Aghapour, writer of the Revealer article, "My Brain on Muse, the Tech Meditation Headset," teamed up with Revealer contributor Peter Manseau to put in writing about how science and faith have influenced each other, particularly by an examination of artifacts housed on the Smithsonian's Nationwide Museum of American Historical past. Their guide, Discovery and Revelation: Religion, Science, and Making Sense of Things, is each incisive and visually spectacular.
4) Whereas we're on the subject of science and faith, it's best to learn Mary-Jane Rubenstein's wonderful Revealer article, "The New Corporate Space Race: A Colonial Remix." In her new guide, Rubenstein builds on that article and weaves private tales, popular culture, and experience in faith to supply an accessible tackle the numerous issues with firms and billionaires colonizing the cosmos—and what all of that has to do with faith. Rubenstein affords a contemporary, astute, and pressing tackle why we have to care concerning the company area race and why it issues for our planet. Don't miss her participating and extremely readable guide, Astrotopia: The Dangerous Religion of the Corporate Space Race.
5) Have you ever ever mirrored in your digital life? Chris Stedman, who writes concerning the web and atheists within the Revealer article "Atheists, Social Media, and American Politics," questions if our on-line selves are literally completely different from how we exist offline. Arguing that the excellence between "in actual life" and on-line life is a false binary, Stedman affords a fantastically written reflection on the highly effective position digital media performs in our lives, the issues with social media, and the digital world's wealthy potentialities. Try his astute, private, and compelling guide IRL: Finding Our Real Selves in a Digital World.
6) Our remaining advice is, we're proud to say, a nationwide bestseller authored by frequent Revealer author, Simran Singh. He's the writer of a number of widespread Revealer articles, together with "Why Sikhs Serve" and "Why I Share My Story: Vulnerability, Representation, and Empowerment." In his new guide, Singh blends private tales together with his experience in faith to supply a robust introduction to the Sikh custom. The writing is accessible, vivid, and punctuated by shifting tales. Don't miss Singh's wonderful guide, The Light We Give: How Sikh Wisdom Can Transform Your Life.
Completely satisfied studying!